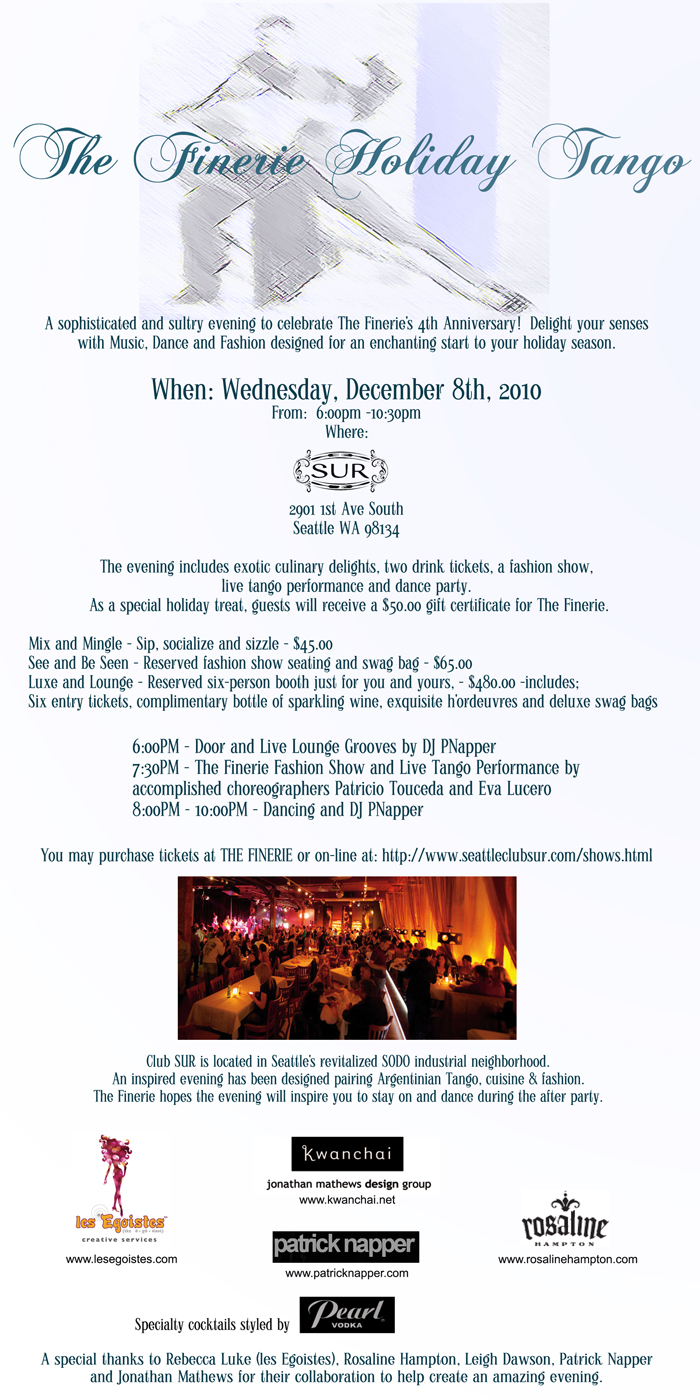 A sophisticated and sultry evening to celebrate The Finerie's 4th Anniversary! Delight your senses with Music, Dance and Fashion designed for an enchanting start to your holiday season.

December 8th, 2010

The evening includes exotic culinary delights, two drink tickets, a fashion show, live tango performance and dance party. As a special holiday treat, guests will receive a $50.00 gift certificate for The Finerie.

SCHEDULE OF EVENTS
6:00PM - Door and Live Lounge Grooves by DJ PNapper
7:30PM - The Finerie Fashion Show and Live Tango Performance by accomplished choreographers Patricio Touceda and Eva Lucero
8:00PM - 10:00PM - Dancing and DJ PNapper

TICKETS
Mix and Mingle ($45) - Sip, socialize and sizzle.
See and Be Seen ($65) - Reserved fashion show seating and swag bag.
Luxe and Lounge ($480) - Reserved six-person booth just for you and yours. Includes six entry tickets, bottle of sparkling wine, exquisite h'ordeuvres and deluxe swag bags. To reserve booth, call Tanya at 206.890.0742.

Purchase your tickets via the Club Sur website.

EVENT DESIGN & GRAPHICS BY
Kwanchai - Jonathan Mathews Design Group
206.262.1022
www.kwanchai.net

We look forward to seeing you!

kwanchai • jonathan mathews design group
1735 Westlake Ave. N • Suite 300 • Seattle WA 98109
tel. 206.262.1022
website design by kwanchai • contact • online privacy statement • copyright protected images