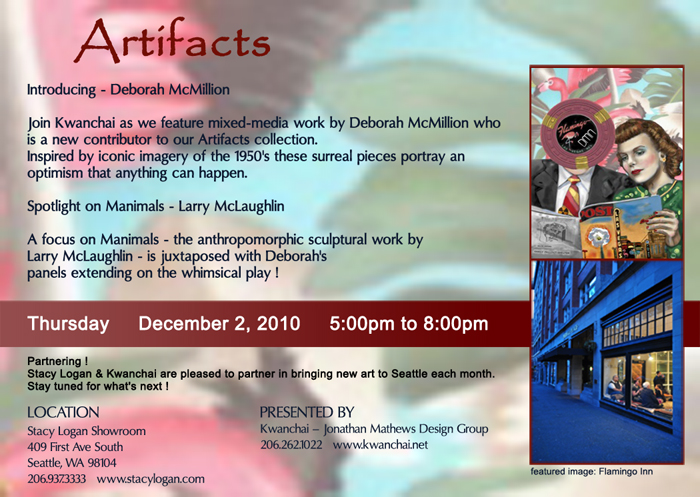 KWANCHAI ARTIFACTS COLLECTION PRESENTS
Deborah McMillion Exhibition at the Stacy Logan Showroom

Encore!
Introducing - Deborah McMillion

Join Kwanchai as we feature mixed-media work by Deborah McMillion who is a new contributor to our Artifacts collection. Inspired by iconic imagery of the 1950's these surreal pieces portray an optimism that anything can happen.

Spotlight on Manimals - Larry McLaughlin

A focus on Manimals - the anthropomorphic sculptural work by Larry McLaughlin - is juxtaposed with Deborah's panels extending on the whimsical play !

WHEN
Thursday December 2, 2010
5:00PM - 8:00PM
Light Refreshments

WHERE
Stacy Logan Showroom
409 First Ave South
Seattle, WA 98104
206.937.3333
www.stacylogan.com

PRESENTED BY
Kwanchai - Jonathan Mathews Design Group
206.262.1022
www.kwanchai.net

We look forward to seeing you!

kwanchai • jonathan mathews design group
1735 Westlake Ave. N • Suite 300 • Seattle WA 98109
tel. 206.262.1022
website design by kwanchai • contact • online privacy statement • copyright protected images