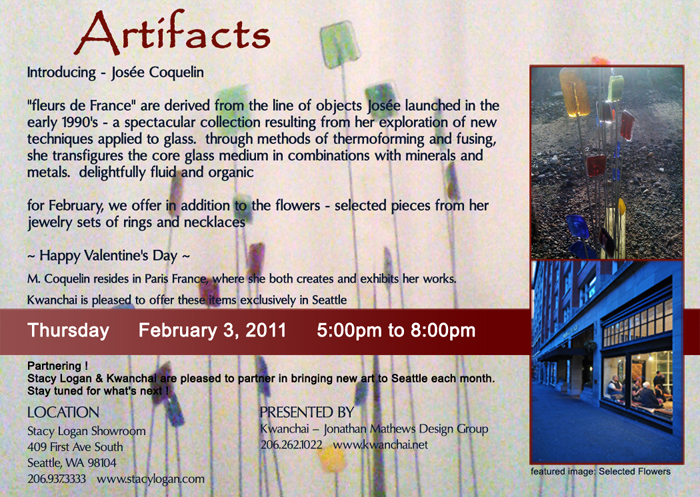 KWANCHAI ARTIFACTS COLLECTION PRESENTS
Josee Coquelin Exhibition at the Stacy Logan Showroom

Join Kwanchai as we feature "fleurs de France", derived from the line of objects Josee launched in the early 1990's - a spectacular collection resulting from her exploration of new techniques applied to glass. through methods of thermoforming and fusing, she transfigures the core glass medium in combinations with minerals and metals. delightfully fluid and organic

M. Coquelin resides in Paris France, where she both creates and exhibits her works. Kwanchai is pleased to offer these items exclusively in Seattle

WHEN
Thursday February 3, 2011
5:00PM - 8:00PM
Light Refreshments

WHERE
Stacy Logan Showroom
409 First Ave South
Seattle, WA 98104
206.937.3333
www.stacylogan.com

PRESENTED BY
Kwanchai - Jonathan Mathews Design Group
206.262.1022
www.kwanchai.net

We look forward to seeing you!

kwanchai • jonathan mathews design group
1735 Westlake Ave. N • Suite 300 • Seattle WA 98109
tel. 206.262.1022
website design by kwanchai • contact • online privacy statement • copyright protected images