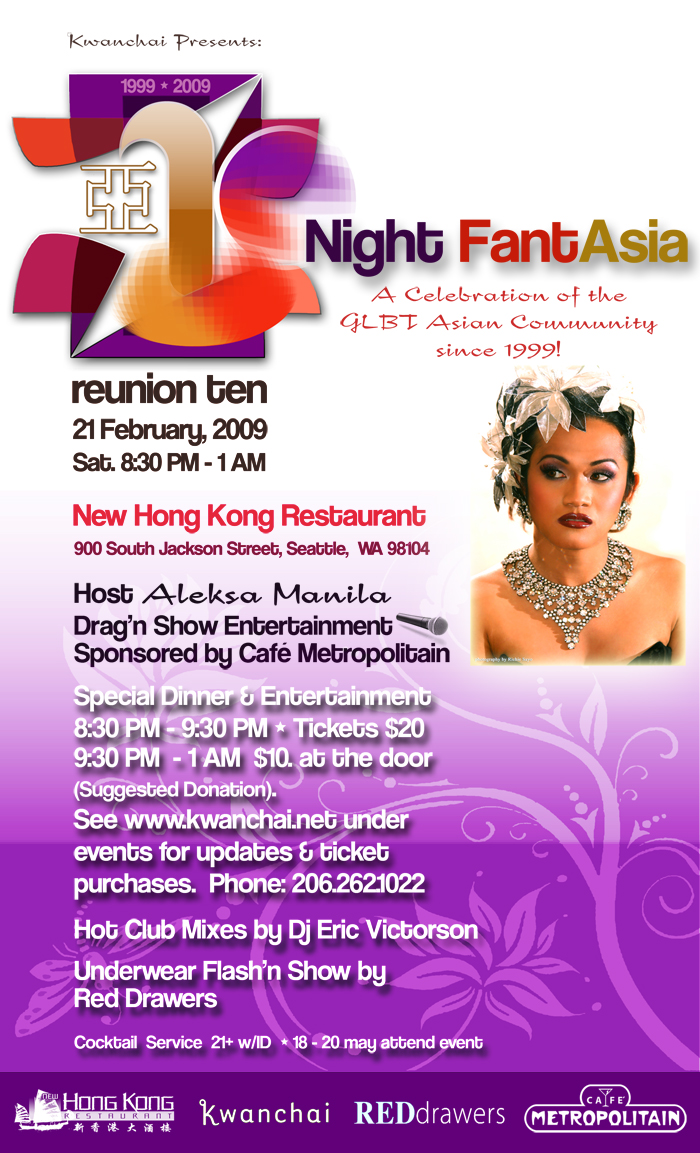 JOIN THE CELEBRATION!

To All Of Our Invited Guests & Friends:


The year was 1999; the excitement of Y2K was just around the corner. The same year, anticipation was mounting for the first official event to celebrate Seattle's Gay Asian community.

The concept arose from examples set by cities like L.A., San Francisco and Vancouver, BC which celebrated successful Gay Asian themed events. Erik Witzoe and Leroy Chin, recognized the Seattle area's large Gay Asian population and knew it was time to create an event modeled after those major cities.

Night FantAsia premiered that February at ARO.space, Seattle's then elite hot spot for gay fashionistas. An impressive turnout of 275 guests celebrated Night Fantasia's first run of club music and Go Go Boys. In the beginning years, Night FantAsia events survived the many ownerships of ARO.space, until its closure in 2002 when it was known as Arena Seattle. In 2005, Night FantAsia returned as the annual event for Seattle's Gay Asian community.

Erik Witzoe, the original promoter, has been integral to FantAsia's success. Many of Seattle's Asian Drag Artists launched careers at Night FantAsia and the event has enjoyed a longer run than any other Seattle Gay Asian organization.

Planning for Night FantAsia Reunion Ten has been in the works since last October. Jonathan Mathews of Kwanchai, designer of Night FantAsia's eye-popping décor and inspired visuals year after year, is partnering with Jasmine Mac of New Hong Kong Restaurant and Quyen Luu of Café Metropolitain, to create an event that rivals any of the past.

Aleksa Manila will both perform and host the event, with other surprise entertainers sponsored by Café Metropolitain. Be prepared for spicy male hotties modeling the latest undergarments from Capitol Hill retailer REDdrawers in the anticipated Flash'n Show. DJ Eric Victorson will energize guests with the hottest mix of club hits.

At 8:30PM, Night FantAsia kicks off with a delectable specialty Chinese dinner. Limited tickets are available for $20, inclusive of the sensational entertainment.

At 9:30PM, doors will be open for a night of entertainment to those unable to secure dinner tickets. A suggested donation of $10 will be collected at the door. The event is open to all 18+ with alcohol served to those 21+ with ID.


kwanchai • jonathan mathews design group
1735 Westlake Ave. N • Suite 300 • Seattle WA 98109
tel. 206.262.1022
website design by kwanchai • contact • online privacy statement • copyright protected images