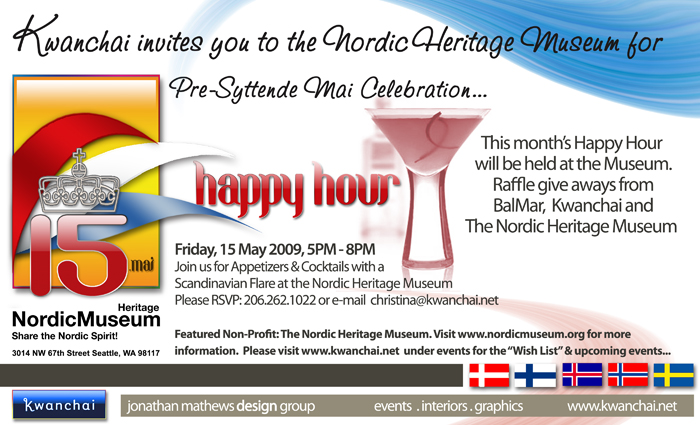 WELCOME TO HAPPY HOUR!

To Our Invited Guests & Friends: We are so pleased to be hosting monthly Happy Hours, it brings us great joy & pleasure to meet new people in our community!

Kwanchai is a design firm that started in Interior Design and has quickly grown into other areas of design including Event Design, Website Design and Graphic Design. For more information about our services, please visit our website at: www.kwanchai.net.

Kwanchai hosts a monthly Happy Hour in support of a different local nonprofit or charitable organization within our community.

Our past recipients include:
Dearborn Elementary
Safe School Coalitions
Jubilee Woman's Center
Verbena Health
Art with Heart
Camp Ten Trees
Rise N'Shine
Gay City Health Project
Families Like Ours
Equal Rights Washington
Susan G. Komen- 3 Day Walk
Lambert House
Provail
Youth Theatre Northwest
Viet Nam Scholarship Foundation

We collect items from the organization's "Wish List" and any monetary donations. We hope you will join us in supporting our community. If not, we are still excited that you attend our Happy Hour!

For May's Happy Hour:
The nonprofit organization is Nordic Heritage Museum
www.nordicmuseum.org

Mission: The Nordic Heritage Museum shares Nordic culture with people of all ages and backgrounds by exhibiting art and objects, preserving collections, providing educational and cultural experiences, and serving as a community gathering place.

"Wish List"
(10-15x) 72" round folding tables for special events
(15 x) 8' rectangular folding tables for classrooms and special events
(15 x) 6' rectangular folding tables for classrooms and special events
$100+ items to be included for Museum's upcoming fundraisers (raffles and auction)
Catering bar on casters (without sink)
2 desk chairs on casters
2 comfy side/club chairs for new executive director office
200 stacking, armless chairs for special events in the auditorium
Commercial printing services
Desk/task lamps
Commercial dishwasher
Monetary Donations in Any Amount


Share the Nordic Spirit! See What's Happening at the Nordic Heritage Museum!
The Nordic Heritage Museum, currently located at 3014 Northwest 67th Street in Ballard, is best known for their unique collection that showcases the heritage of our region and presents unique educational and cultural programs and exhibitions that celebrate Nordic immigrant history.

The Nordic Heritage Museum Is Growing!
The Nordic Heritage Museum is in the midst of their most exciting transformation yet. The Museum is building a new facility with the space, location, and stature to engage future generations in learning about the Nordic immigrant experience in the Northwest and Scandinavian art and culture.
Currently, plans are underway for the design and construction of a state-of-the-art facility in the 2600-2800 block of Market Street in which the Museum's exhibits, programs, and audiences will have the room to expand. Fundraising efforts are now in full-swing to make the new Museum a reality. The talented team working on the new Museum includes Seattle's Mithun, and Juhani Pallasmaa, the highly respected Finnish architect.

"Our goal is not only to build a world-class museum where we can continue to celebrate our Nordic culture and heritage but to create a transformative experience for all visitors to the Museum." remarked Eric Nelson, Executive Director. "We want to change the way people think about their community. We want them to leave the Museum inspired to emulate positive Nordic values and empowered to make positive changes to improve the quality of life in their community, their country and the world."


A Bit of History
The Museum, established nearly 30 years ago, honors the accomplishments of thousands of Nordic immigrants who flocked to the Northwest at the turn of the 20th century. The Museum showcases significant contributions of these immigrants who have made a lasting impact on our region' s development, culture and economy. Unique amongst museums, the Nordic Heritage Museum unifies and celebrates contributions from Denmark, Finland, Iceland, Norway and Sweden.

"The Dream of America," is the largest of the permanent exhibits and recreates with photographs, artifacts, sound and environments the dramatic journey of the early 20th century Nordic immigrants to America and the Pacific Northwest.

Eight additional galleries focus on the immigrant heritage of each of the five Nordic countries and the impact of Nordic immigration on the Northwest's fishing and lumber industries. In addition, one large gallery is used to host up to seven temporary exhibits per year of art works by contemporary Nordic and Nordic-American artists.

The Museum produces three fun fundraising events annually. Funds generated by these events are essential for underwriting the Museum's yearly operations and assist their effort to provide unique and educational programming.

The Northern Lights "Auktion" is the Nordic Heritage Museum's largest fundraising event. The evening features a stellar evening of entertainment, gourmet dinner and an exciting live and silent auction presented with true Nordic flair. 2010 date is TBA.

Viking Days takes place on July 11 and 12 at the Museum. If you missed it last year, you can look forward to a weekend of Scandinavian food and entertainment, arts and crafts vendors and real live Vikings and living history demonstrations as only seen in Ballard.

On November 21 ad 22, the Nordic Heritage Museum will open its doors for Julefest 2009. Kick start your holiday season with this Nordic Christmas tradition and browse hand-crafted gifts from over 50 vendors. Visit the craft room for kids with your little ones or enjoy performances by a host of Scandinavian musical talent that will certainly inspire holiday cheer.

For more information about the Nordic Museum, how to become a member or learn more about upcoming events, please call (206) 789-5707 or visit www.nordicmuseum.org.
See you at the Nordic Heritage Museum!


Update on the Capital Campaign for a New Permanent Home
This is an exciting time for the Museum! Last fall, we completed the concept design phase of our new facility, and we continue to receive tremendous support from donors who will help make our dream a reality. The Capital Campaign recently took a leap forward with a donation of $100,000 from Jane Isakson Lea. With gifts and pledges, that brings our funds raised to date to almost $20 million, which is 31% of our Campaign goal of $65 million. That is something to celebrate!

The Museum is very grateful to be the recipient of over forty donations to the Endowment Fund ("Heritage Gifts") in memory of Herbjorg Pedersen. Herbjorg was the mother of Susan Hanson and Einar Pedersen and a beloved member of the community. We are very appreciative of the great legacy Herbjorg left behind for the Museum. Donors who have given in memory of Herbjorg are listed in the Campaign donor list in this newsletter.

Our campaign efforts are currently focused on sharing the vision and concept plans for the new museum with leadership donor prospects, elected officials, and Nordic groups. Also, we recently formed a Maritime Advisory Group to help shape the exhibits and messages of the Maritime Gallery in the new museum.

Mayor Greg Nickels recently reiterated the City of Seattle's commitment of $1 million to the new museum project, and in March the Seattle City Council unanimously passed a text amendment to the zoning ordinance to allow us to construct the new Museum. The Museum is now seeking $1.4 million from the State of Washington for a project to plan sustainable technologies that will help conserve energy and materials in the new building. This project will create new jobs and an opportunity for vendors and contractors in Washington to showcase their green products.

The next step in the design and construction process will be finalizing schematic design. As long as we are able to keep pace with our fundraising benchmarks, we plan to break ground for the new museum in early 2012.

To learn more about the new Museum, please visit our website, www.nordicmuseum.org and click on Video: The Museum's Future Home. You will see a video with images and interviews with Museum leaders and designers giving details on plans for the new facility. For other information or to discuss giving options to the Capital Campaign, please contact Capital Campaign Associate Diane Figaro at 206-789-5707 x24 or dianef@nordicmuseum.

kwanchai • jonathan mathews design group
1735 Westlake Ave. N • Suite 300 • Seattle WA 98109
tel. 206.262.1022
website design by kwanchai • contact • online privacy statement • copyright protected images