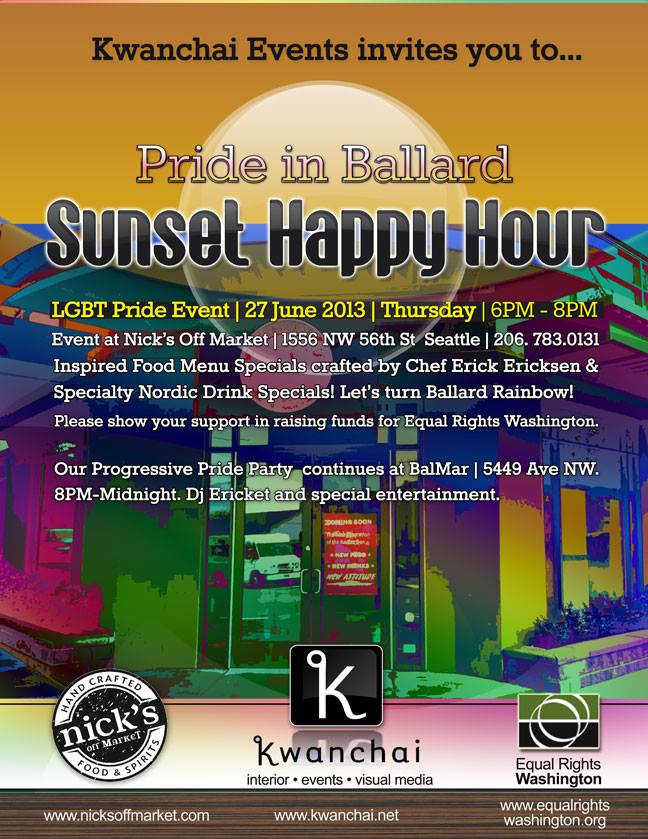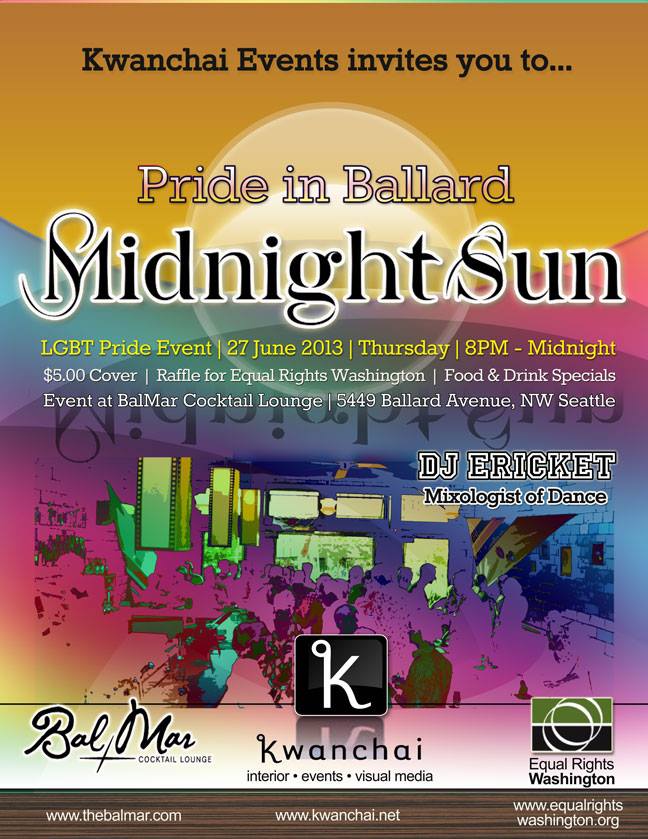 WELCOME TO PRIDE IN BALLARD!
To Our Invited Guests & Friends:
Pride comes to the Northwest corner of Seattle! You've known Ballard for the annual Syttende Gay (a Nordic LGBT event) for the past five years and because of it's overwhelming success, Kwanchai is proud to announce the first ever Pride in Ballard.
Pride Ballard begins at Nick's Off Market from 6PM - 8PM. Our theme will be "Sunset Happy Hour" with specialty cocktails and Ballard inspired food menu by Chef Erick Ericksen, special prices in effect... Under 21 may enter the premises...
The Progressive Pride Party's final destination is BalMar Cocktail Lounge. This fun-filled packed evening takes place in the upper events floor, with BalMar's fantastic Happy Hour menu and drinks in effect, when you spend $5.00 cover for a wristband. Dj Ericket livens the energy level with current club mixology. Planned drag entertainment and Raffle of service and goods, to once again help with proceeds to benefit Equal Rights Washington -see website: www.equalrightswashington.org.
We hope to see you there! Lets show our support for the North end of our great city :-)
Turn Ballard Rainbow!
It brings us great joy & pleasure to meet new people in our community!
Kwanchai is a boutique design firm that started in Interior Design and has expanded to offer our clients comprehensive design services.
For more information about Kwanchai service offerings, please visit our website at: www.kwanchai.net.
kwanchai • jonathan mathews design group
1735 Westlake Ave. N • Suite 300 • Seattle WA 98109
tel. 206.262.1022
website design by kwanchai • contact • online privacy statement • copyright protected images