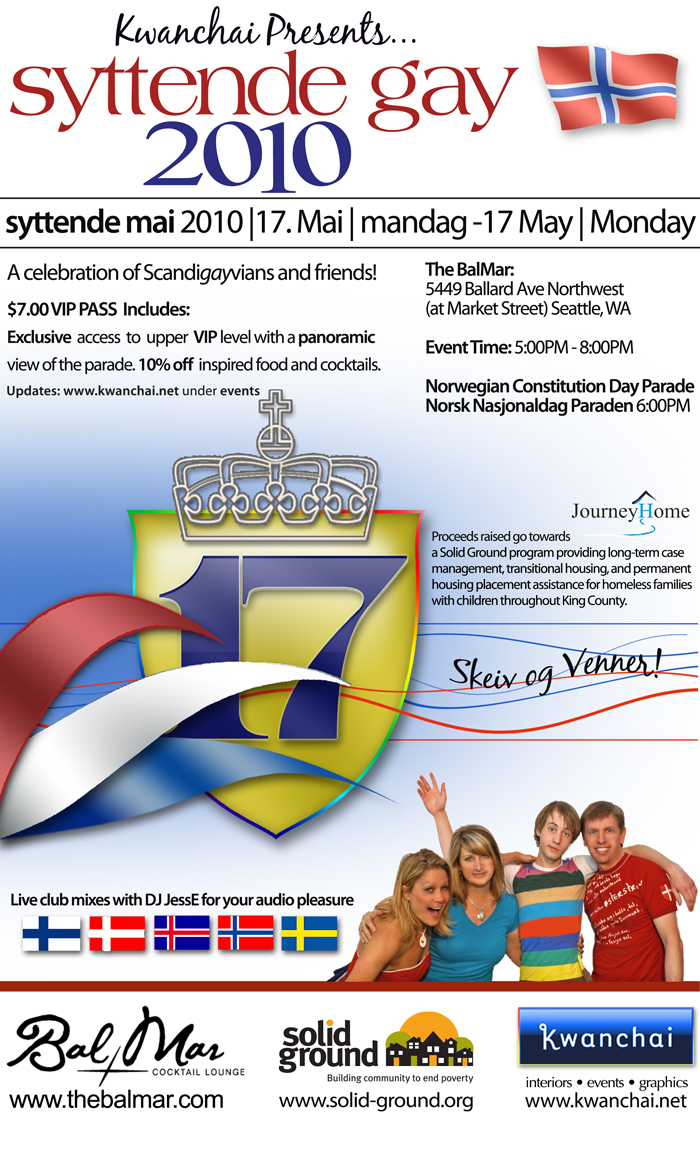 CELEBRATION!

Hei! May 17th, the Norwegian Constitution Day, is Ballard's biggest day of the year with one of the largest parades outside of Norway. Syttende Gay Returns!

Syttende Gay came in to existence in 2006 as an event combining Seattle's Scandinavian GLBT community and the annual celebration of Syttende Mai. This event has evolved into an internationally promoted occasion with the help of local and international blogs such as Ballard Gossip Girl, Seattle Gay Scene, Out Traveler Magazine and Orbitz Travel. Syttende Gay is one of the many events under the auspices of Kwanchai.

In line with the last few years, we have the pleasure of hosting Syttende Gay 2010 at BalMar (5449 Ballard Ave NW off NW Market St) with spectacular views of the parade.

DJ JessE (whom you might remember spinning at our Ref. 71 Benefit) will be spinning a blend of Scandinavian and current energy club mixes in BalMar's new dance space.

This year's charity is Journey Home which is dedicated to achieving a just and caring community, free from poverty, prejudice and neglect. Journey Home is a division of Solid Ground (www.solid-ground.org).

There will be two ways to raise funds, with a VIP Pass and the Event Raffle.

The VIP Pass ($7) offers exclusive patio access for panoramic views of the parade, 10% off of inspired appetizers and cocktail specials, live DJ and private bar.

Event Date: Monday, May 17, 2010
Event Time: 5:00PM - 8:00PM
Norwegian Constitution Day Parade at 6:00PM

Our events are always open to everyone of interest
as our mission aligns with celebrating inclusiveness and diversity.


kwanchai • jonathan mathews design group
1735 Westlake Ave. N • Suite 300 • Seattle WA 98109
tel. 206.262.1022
website design by kwanchai • contact • online privacy statement • copyright protected images