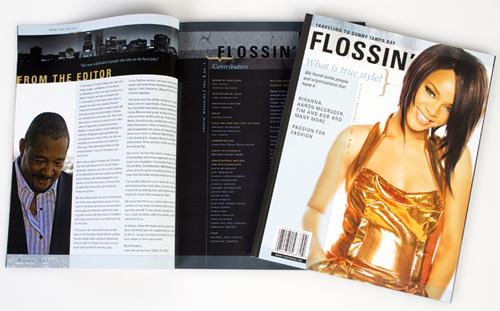 Flossin Magazine article
---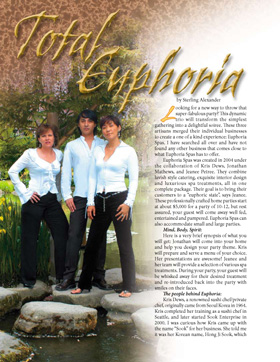 TOTAL EUPHORIA
By: Sterling Alexander
Looking for a new way to throw that Super-Fabulous Flossin' Party? Well look no further, because I have found a dynamic threesome, out of Seattle, WA, who can take your party to a whole new level. These three artisans merged their individual businesses to create a one of a kind experience: "Euphoria." I have searched all over and have not found any other business that comes close to what Euphoria has to offer.
Euphoria was created in 2004 under the collaboration of Kris Dews, Jonathan Mathews and Jeanee Petree, which combines lavished style catering, exquisite interior design and luxurious spa treatments, all in one complete package. Their goal is to bring their customers to a "euphoric state", says Jeanee. These professionally crafted home parties start at about $5,000 for a party of 10-12, but rest assured, your guest will come away well fed, entertained and pampered. Euphoria can also accommodate small and large parties
Mind, Body, Spirit:
Here is a very brief synopsis of what you will get: Jonathan will come in to your home and assist you design your party theme. Kris will prepare and serve a menu of your choice. Her presentations are awesome! Jeanee and her team will provide a selection of various spa treatments for you to choose from. During your party, your guest will be whisked away for their desired treatment and re-introduced back into the party with smiles on their faces.
The people behind Euphoria:
Kris Dews, a renowned sushi chef/private chef, originally came from Seoul Korea in 1964. Kris completed her training as a sushi chef in Seattle, and later started Sook Enterprise in 2000. I was curious on how Kris came up with the name "Sook" for her business and she told me it was her Korean name, Hong Ji Sook, which means growth, blossoming and beauty. In her business Kris offers catering and culinary instruction. She has taught hundreds of private and commercial cooking classes.
Kris has been described as a passionate chef who loves to cook. I was told she brings out unique flavors in her various sushi dishes. Kris says "No one can throw a party like Euphoria."
Jonathan Mathews, a phenomenal interior designer and artist, originally from Thailand, who attained his degree in design. He later started his own company called "Kwanchai," which was Jonathan's name when he was growing up in Thailand, and means "First Born."
I asked Jonathan what he liked about doing the Euphoria parties. He said his goal is to exceed the customer's expectations. Jonathan said he brought to the group, his creative side in developing environments that relieves stress and promote healing and growth.
Jeanee Petree, a highly skilled Esthetician will bring along a professional team who can provide you with everything from hot stone massages to champagne caviar facials.
Jeanee is a highly sought after professional, who in 2004 received the "Healing Hands Award" at the Washington Esthetician conference. Jeanee proudly admits, "I've got the Magic Touch."
When I first met Kris, Jonathan and Jeanee, I instantly sensed this unique synergy between them. From Kris I sensed her passion about cooking and teaching. Jonathan, dressed sharp from head to toe, demonstrated his attention to detail. Jeanee who I initially thought was quiet and shy, ended the meeting with a powerful comment about touching people on a mental, physical and spiritual level.
Words can not completely describe what Euphoria has to offer, it is something you will have to experience firsthand. I guarantee your party goers will walk away saying, "That was one Flossin' party."
kwanchai • jonathan mathews design group
1735 Westlake Ave. N • Suite 300 • Seattle WA 98109
tel. 206.262.1022
website design by kwanchai • contact • online privacy statement • copyright protected images